Christmas is two nights away and before we indulge ourselves with tons of yummy Noche Buena, it's important to take some time off and reflect on how 2019 contributed to our life in general.
Bonfire at Church Family Camp
Our church had a three-day family camp. On our last night, the young people gathered around the bonfire.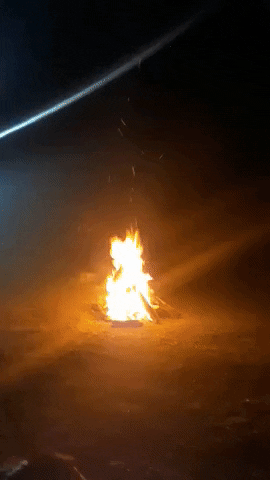 These are a combination of working professionals and students.
Graced by the warmth of the fire, we roasted hotdogs with fun and chill music.
I initiated a conversation and asked, "If 2019 is a person, what would you tell him/her?"
Some said,
Nakakainis ka 2019!
Others said,
Thank you sa lahat ng itinuro mo sa akin, 2019!
Speaking to our 2019 and 2020
These are the general answers last night. There are few who shed tears. Majority of the crowd are aware of their shortcomings in every area of their lives this year.
And you know what surprised me the most?
It was when I asked the next question. What would you say to 2020 if it is a person?
Both boys and girls shed tears as we started answering.
It was unfiltered and straightforward messages, ones that I will never forget.
I shed tears too. I mourn with those who mourn. I felt the pain of those who go through dark valleys and struggles this year. I can feel them and I am with them.
I shared joy and victory to those who were rejoicing. I celebrate with them as they share their answered prayers and wins!
Every story was unique and had a mixture of wins and loses.
We ended the night with a prayer of thanksgiving and comfort. We finished with a strong heart and we are embracing 2020.
I'm sorry if I can't share the specific narrative. Let the mountains, trees and the wide starry dark sky be the witnesses of those unfiltered stories.
Why assessment is relevant to our growth and journey?
Change is constant. We can never stop time and we will always have to adjust with the changing seasons.
It would be painful to wear summer clothes for cold weather, right? You'll get sick eventually.
When the seasons change, we adjust. It's because we are already aware of the changes.
Awareness is not automatic. It's something that we consciously think about. And to become aware of something, we need to ask questions. We assess ourselves.
And for every end of the line, assessment has been an integral part of one person's journey to success.
It's also important for a business or a project.
It helps us to know our accomplishments, mistakes and opportunities to be better.
To do that, we need to ask the right questions.
[Free Download] Year-End Self Assessment Worksheet

And I prepared a year-end self-assessment worksheet.




IT'S FREE!




And you download it below.



I only request one thing from you.




1. Post this article on your Facebook wall with the caption




"Assessment has been an integral part of one person's journey to success. It's also important for a business or a project. It helps us to know our accomplishments, mistakes and opportunities to be better. To do that, we need to ask the right questions. Download this FREE Year-end Self Assessment Worksheet"




2. Leave a simple comment below. (e.g I'm Eunice from Rizal. Thanks for the worksheet!)









Cheers,

Eunice